We are in a hurry to get a worker. What do we do?
Many young people are ready to work with short notice, so just create the task normally but add a note and mention when the job should be performed and when the selection decisions will be made. Notifications from an open task come immediately and applicants will often appear in just a few minutes.
How do you know what kind of workers are available and what skills they have?
Workers can be found from a variety of different backgrounds and skills. The best results are when you post an order where the task is clearly described, and any special skills are mentioned clearly. It is good to keep the task active long enough to reach as many workers as possible.
Why doesn't everyone have an image, address or phone number in their introduction?
Everyone who registers to the application enters the information that they want. This means that some people might choose to not give their image, address, or phone number.
I need a worker who is over 18 years old and is trustworthy. How can I make sure of this?
1. Under 18-year-olds can register to WorkPilots, so some applicants may be under 18. If task requires that worker should be at least 18 years old, it would be good to announce that in task description, so that under 18 year-olds wouldn't apply to the task. One feature our system offers is that on the list of applicants, there is a small 18+ -icon (see photo below) next to applicants profile picture, if applicant is at least 18 years old. That makes it easier for orderer to select a suitable worker.


2. From each task, the worker will receive feedback, which will be displayed in the worker's profile. From the feedback provided, you can see whether they have worked well in the past. However, not everyone has necessarily done tasks yet, so we also encourage you to give a chance to the people without any past tasks.
Selecting multiple workers to the same order:
When you are selecting a worker to the task, the service asks after selection, if you would like to select more workers - by clicking "yes" the worker is selected for the order copy made from original task order and this worker is removed from applicant list.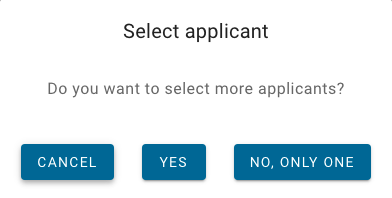 This order copy made from original task order goes to "on going" tasks, but original order and applicants which have applied to it, still remains there in open tasks. This way you can choose many applicants to it and create own task for everyone of those. If you select "no", the order continues with selecting one applicant like before. Remember to press "no", when you are selecting the last applicant to the order. But if you accidentally press "YES", even though you don't need more applicants, you can go to remove that open task order from your open orders.
Please note this, when you are choosing a worker to work, which is suitable for young person:
https://tem.fi/en/light-work-suitable-for-young-persons