The use of our service requires registration, which needs an email address and password. It is important to enter a valid email address in the service, as it will be used to provide important information to the user (including receipts, orders, etc.). Using incorrect personal or business information is not allowed.

Registration is done as follows:

1. Download or sign in to the service

2. Create a user for yourself

3. Update other profile information

4. Accept the Terms of Use



1. You can register once you've either downloaded the service from the Apple Store or from the Google Play Store or have the WorkPilots web version open.

(Don't worry, you can update your information later by choosing 'Settings' or 'Profile Settings'.)

2. Create a user profile to our system.
Your username is your email address.

Enter your name, your e-mail address and your phone number. Note: Your phone number should be in the international form, i.e + 358 40 1234567.

After that system asks you to choose between Finnish and Swedish service (see photo below).
Third option is also private service, which is one of new features.
If some orderer has branded their own service to our platform and you want to register to that one, press "Add private service" and then input service code, that you need to register to that system.


Then move forward and after selecting service type, define a password to your WorkPilots-account (min. 6 characters).
In the end of registration process, you will receive a registration confirmation message to your e-mail which includes a link which you click to confirm your account. (Check also trash mail, if you can't see the message in inbox.
After that, you are ready to use your account and define rest of settings from profile settings -page.




Transactions in the mobile service are confirmed by the session based PIN code you select when you register with iOS or Android. The PIN code is used to confirm orders so that others can not place orders on your phone if you leave the app open. If you use WorkPilots only as a worker, PIN code won't be asked after creating it. System asks it only when you create an order.

You can update your PIN from 'Settings' - Change PIN.

In the mobile versions, you also need to agree to the Terms of Use.

After registering, you can log in directly to the web service by entering your username and password. In mobile services, filling in profile information will continue automatically by selecting a suitable role (see section 3).

3. Choose the appropriate service option for yourself whether you want to register as an orderer or as a worker. (The selection in the upper right corner of the web version). You can also sign up for both roles with the same ID. Read the instructions on worker registration here.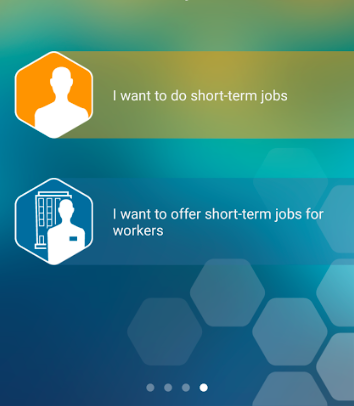 REGISTRATION OF THE ORDERER
If you want to place orders in the name of your company, enter your businesses name instead of your own name.
Before you can order tasks, enter your payment card information. In the WEB version, you can find this on the tab at the left side of the page ''payment cards' and in the MOBILE versions under 'settings' and 'manage cards'.
Orders can be paid by credit card or debit card (Visa, Visa Electron, MasterCard, Maestro Visa Electron).
Your payment card information is entered and stored in the NETS's service in a strong security rated environment (PCD ISS) and WorkPilots does not store the card number on its own servers. See more from Safety.

If you want to use PilotPoints as the payment method for the orders instead of credit/debit card, please contact info@workpilots.fi.
Your credit card number can be found on the front of the card. The 3-digit CVV symbol is next to the signature on the back of the card. If you want to use a debit card, the card number is shown on the back and next to the bank card CVV.
Remember to also make sure that your payment card has the right to make online payments in your online bank!
If you are interested in business invoicing opportunity, please contact us at info@workpilots.fi.
Add a photo to your profile and a brief description of yourself so that other users can know you a bit better. If you represent a company, you can also put your business logo as a profile image. With that profile picture applicants may see your orders better, because without that picture, there is just a grey circle on the order list next to the task description.
Note: The size of the profile image must be less than 1MB.
Once you have created your account, update your location on the map. The location is used, for example, in the online service as the default location for any task you create and as the address in your profile information.
You can later update this information under 'Settings' - 'Profile Settings'
4. Accept the Terms of Use.
You are now ready to use the service!