The use of our service requires registration, which needs an email address and password. It is important to enter a valid email address in the service, as it will be used to provide important information to the user (including receipts, orders, etc.). Using incorrect personal or business information is not allowed.

Registration is done as follows:

1. Download or sign in to the service

2. Create a user name for yourself

3. Update other profile information

4. Accept the Terms of Use



1. You can sign up once you've either downloaded the service from the Apple Store or from Google Play Store or have the WorkPilots web version open.

(Don't worry, you can update your information later by choosing 'Settings' or 'Profile Settings'.)

2. Create a user account (e-mail and password), which is what you will use to sign in to the WorkPilots service. Your username is your email address.

Enter your name, your e-mail address and your phone number. Note: Your phone number should be in the international form, i.e + 358 40 1234567.

After that system asks you to choose between Finnish and Swedish service (see photo below).
Third option is also private service, which is one of new features.
If some orderer has branded their own service to our platform and you want to register to that one, press "Add private service" and then input service code, that you need to register to that system.


Then move forward and after selecting service type, define a password to your WorkPilots-account (min. 6 characters).
In the end of registration process, you will receive a registration confirmation message to your e-mail which includes a link which you click to confirm your account. (Check also trash mail, if you can't see the message in inbox.
After that, you are ready to use your account and define rest of settings from profile settings -page.


Transactions in the mobile service are confirmed by the session based PIN code you select when you log in with iOS or Android. The PIN code is used to confirm orders so that others can not place orders on your phone if you leave the app open. (If you use our service only as a worker, then system doesn't ask PIN code at any point after logging in. It is asked only in that case, if you make an order as an orderer.)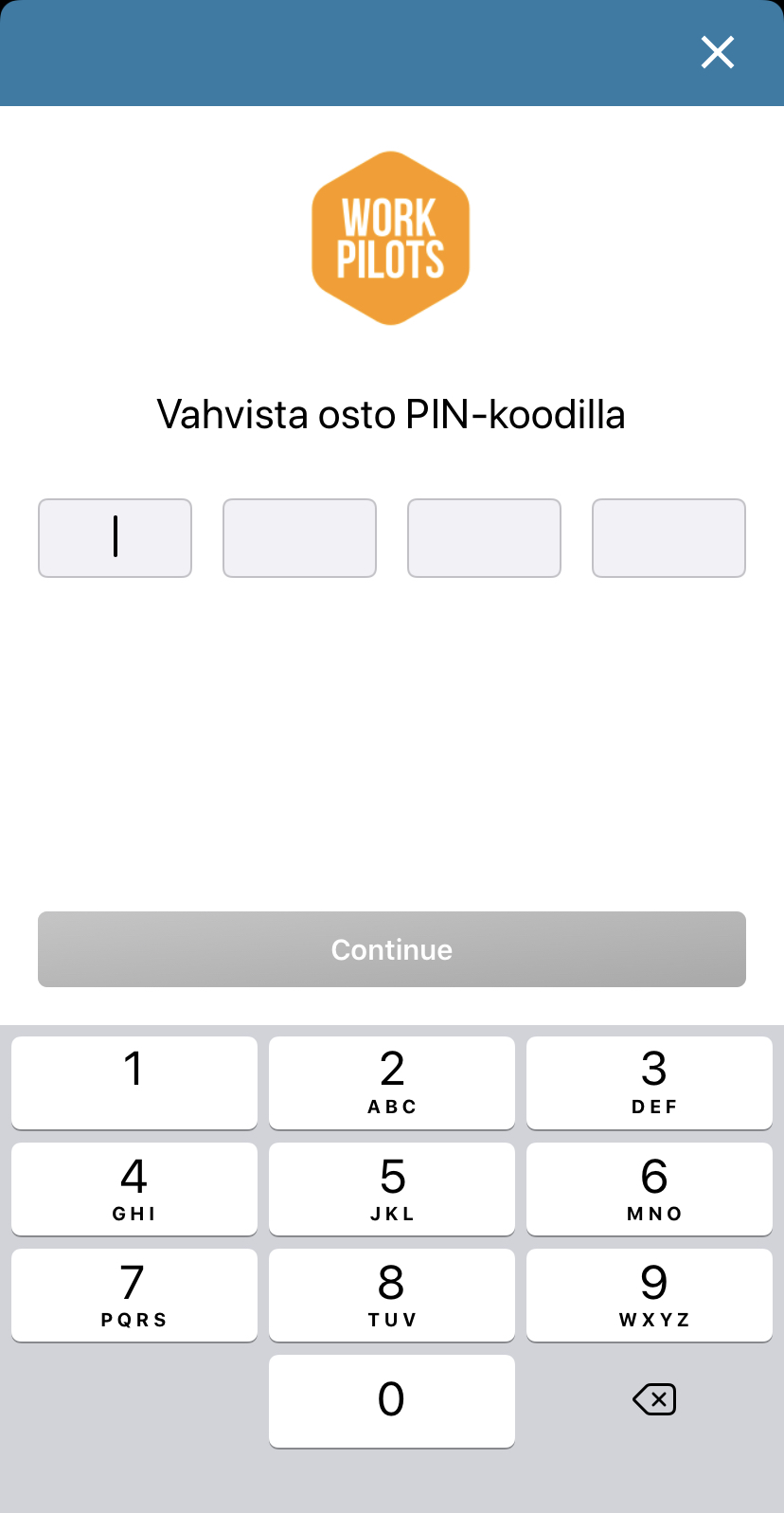 You can update your PIN from 'Settings' - Change PIN.

In the mobile versions, you also need to agree to the Terms of Use.

After registering , you can log in directly to the web service by entering your username and password. In mobile services, filling in profile information will continue automatically by selecting a suitable role (see section 3).

3. Choose the appropriate service option for yourself whether you want to register as an orderer or as a worker. (The selection in the upper right corner of the web version). You can also sign up for both roles with the same ID. Read the instructions on orderer registration here.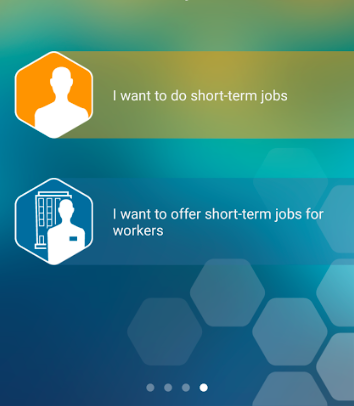 WORKER REGISTRATION
MOBILE VERSIONS: Choose your home address from the map, the maximum distance (how far you want to see open positions from your home address or your current location) and the type of tasks that you are interested in. Add a photo and a brief description of yourself to your profile so that the orderer will know a bit more about you.
NOTE: A good photo and description of yourself are really important so make sure these are entered. With those you can make a good first impression to the orderer and those may help you to get a task.
You can find the same information in the web version when you go to your profile settings.
With this information entered, you can already see what kind of tasks are available in your area. However, you can not apply for tasks until your entire profile has been entered.
MOBILE AND ONLINE: Select profile settings and update your:
Social security number, bank account number and tax percentage
We need these so that we can report to the tax authorities and pay for all completed tasks. This information is not visible to anyone other than the service provider and is only used for payments to you as a worker. They are stored in a high security environment. See more on safety here.
You can see your tax rate from your tax card. If you do not have a tax card, see the taxpayer's website for instructions: https://www.vero.fi/en/e-file/TaxCardOnline2017/
Add a photo to your profile and a brief description of yourself so that others will know a little bit about you. Note: The size of the profile image must be less than 1MB.
Once you have created your account, update your location on the map. The location is used to offer you tasks in your area.
You can update this information under 'Settings' - 'Profile Settings'
4. Accept the Terms of Use.
You are now ready to use the service!